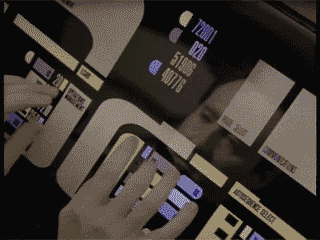 May Day or MAYDAY!!!
Wednesday, May 1st, 2013

So much for keeping the site updated! I spent most of January in Minneapolis and have been working crazy hours during and since. I hit the local record stores while there and my stack of unlistened to vinyl is growing each week. One of these days I'll get a post of the records I've bought/listened to over the last year or so, including this year's Record Store Day picks.

While in Minneapolis, I had tickets to see Morrissey but he cancelled a night or two before the show. Oh well. He's a bit of a knucklehead but that tends to add fuel to his songs. I did get to see Tony Bennett live and you expect him to have an amazing voice - and he does. I need to look at some concert calendars and get some spring/summer outdoor concerts lined up.

Wonder if Bowie will tour his new record? There's been some talk of that possibility. I saw him as a teenager - September 6th, 1987 on the Glass Spider Tour. Peter Frampton was his lead guitarist on that tour and also of note was that the show was choreographed by Toni Basil (of "Oh Mickey" one-hit-wonder fame - but check out her resume). She performed throughout the show. Bowie sold out two nights at the Dean Smith Center in Chapel Hill, NC. It was one of my first concerts and a great show. It's safe to say that I'll never again have the opportunity to attend a concert with a stage made to look like a giant glass spider (what are the odds?). Aladdin Sane era song "Time" performed on the Glass Spider Tour.......or "Bowie decends from giant glass spider":



Hope everyone is having a great 2013.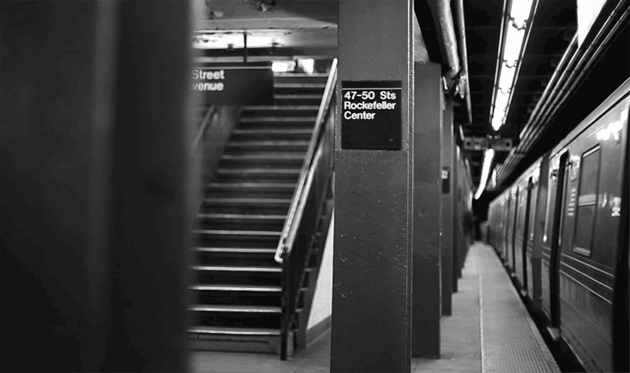 The Year So Far (Part II).....
Tuesday, December 11th, 2012

I had meant to get the webpage updated by now but good grief.....I've taken so many photos this year that it always seems a bit too much to go through them all, pick out the presentable ones, and then do the work needed to post them on the site. I bought a new photo software program that should help with automating the resizing of batches of photos (vs. the manual effort of doing one photo at a time). Hopefully this will help me keep things a bit more caught up. We'll see.

Here are a few photos from May. I went to Holden Beach and, as usual, made a few road trips. Several of the pics are taken at Myrtle Beach. The Gay Dolphin gift shop has been around forever and hasn't changed a bit from when I was a kid. Peaches Corner has also been around since way before I was born. It's been remodeled but their hotdogs still taste the way I remember them as a kid. The SkyWheel is new. It's the second tallest ferris wheel in North America. On the drive, I had just gone through a pretty substantial storm that had cleared off on the way and then I got on the SkyWheel. They let folks on, one cab at a time and I ended up at the very top and just sat there for quite a long time (15 or 20 minutes maybe?). The thought occurred to me, "uh.....what if that storm I went through on the drive here were to hit with the high winds"?



















In early June I went to New York City for a work-related conference and squeezed in a few days of personal time before the conference began. It had been a long, long time since I was last in NYC. The June trip was great and I did alot while there (along with my manager, Chris, who flew in on my third day there a day before the conference began). I stayed at the downtown Mariott, next to where the Twin Towers stood, and had a 25th floor room with a great view of the Hudson. I could see Ellis Island from the hotel window though a building blocked the view of the Statue of Liberty.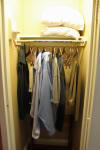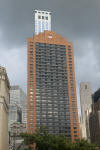 When I was a teenager there were ads in music magazines for a New York City record store called The Record Runner. They specialized in imported records that were not easily available in the U.S. I think I ordered from them once or twice. More often than not, I made lists of the records I would like to have ordered. On the first day in NYC, I thought it made sense to make a trek to see the place. A pretty quick subway ride from Rector St. Station to Christopher St. Station in the West Village and a couple of blocks south and there I am. I had to hit the buzzer and I was let in. I struck up a conversation with the owner, John, who gave me a great run down of the store's history. I saw Bob Dylan's Freewheelin' Dylan album and I knew the cover photo was taken somewhere in the village but I wasn't sure where. I asked John and he smiled, pointing to the door and said, "right outside my door!". How cool is that?. Here's a few photos (you can see the owner, John - cool guy, reflected in the window of the 1st pic in the 2nd row below, taken while we were talking outside):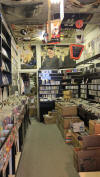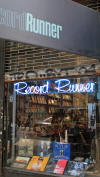 1962
2012


I ended up walking back to the downtown area. Grabbed a bite to eat to take back to the hotel, got a little rest and then took the subway to Times Square in time to take one of the last bus tours of the day. The tour was on one of those red double decker buses. It started raining just as everyone was boarding and so everyone had to wear plastic smocks. We all looked pretty silly. I took a few photos with my cell phone: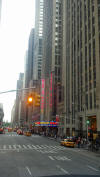 Here are some more photos from the trip using my regular camera. The Brooklyn Bridge, Manhattan Bridge, The Statue of Liberty, Ellis Island, Central Park, Times Square, 9/11 memorial and the Empire State Building (awesome!) are all represented: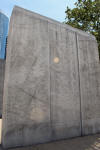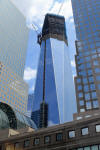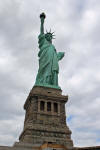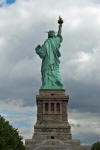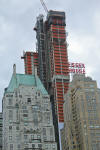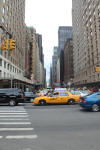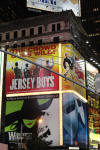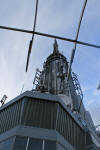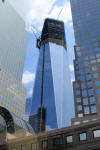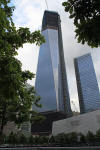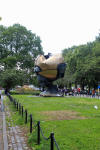 Suzanne Vega released an album a few years ago called Beauty & Crime in which the songs are all about (or set in) New York City in some way. I'm adding "New York Is A Woman" from that album to the player above since it suits this update. Great album and the closer of the album contains my favorite 9/11 related song called "Anniversary" (if you'd like to hear Anniversary, click here).

While on the runway at LaGuardia for the ride back home, who's plane did I taxi by? Here are some clues (taken with my cell phone):








Hopefully, in the next week or so, I can wrap up the rest of the year in a Part III update. I hope everyone is doing well.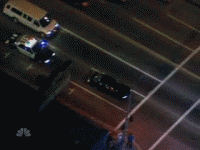 Road Trip!

Sunday July 15th, 2012
So Friday night (into Saturday morning) while I was working on updating the site a bit, I started making a mental list of bands I'd like to see live in the next year or two. I didn't rank them in any particular priority and the first artist that I looked up the touring schedule for was Neko Case. Turned out that she was playing in Raleigh Saturday night. Raleigh is only an hour and a half or so from Winston-Salem so there was no excuse not to go.

Neko's long-time backup singer, Kelly Hogan, has a new album out with an impressive roster of players (Booker T. Jones and James Gadson). Most of the songs on the album were written for Hogan by songwriting heavyweights like Vic Chestnutt (RIP), Robyn Hitchcock, M. Ward, Jon Langford, Andrew Bird - just to name a few. She played double duty by playing an opening set and also playing in Nekos set.







Neko Case and band came out sometime after 9pm and played a great show. It was hot and humid and a lot of between song banter was over the heat. Neko is known for her quick wit and the spontanious banter was a lot of fun. She's got a great command of her voice and her band was excellent. They played three new songs, two of which I particularly enjoyed. For any Hunger Games fans, her song "Nothing to Remember" is featured on the soundtrack.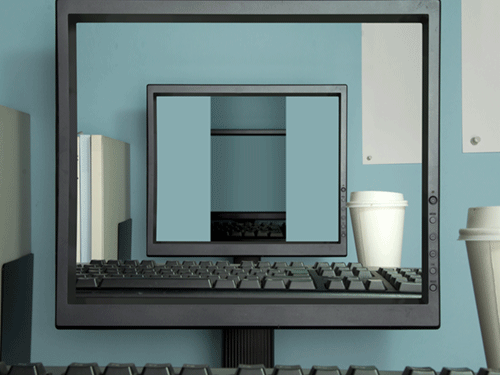 The Year So Far (Part I).....

Saturday July 14th, 2012....late night......
Hello all. As usual, the site is long overdue for an update. I spent most of January in Minneapolis for work. The Residence Inn became home away from home for three weeks and Target became my local grocery store. It doesn't hurt that Target is headquarted in Minneapolis and the Target a block away from the hotel is their flagship store with two levels. Sadly, the Hard Rock Cafe in Minneapolis, mentioned in prior blogs, closed down back in the fall of 2011. When looking for some good food in downtown Minneapolis, you can't go wrong with the 8th Street Grill or Pizza Lucé.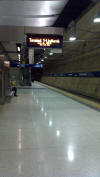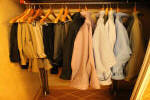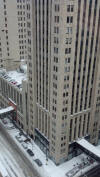 One Saturday I made my way to The Foshay Tower. The Foshay Tower was completed in 1929 and is modeled after the Washington Monument. It was the tallest building in Minneapolis until 1972. The Foshay has an interesting history (check out it's Wikipedia page here for more info) and I decided to tour the small museum on the upper levels and to take pictures from the observation deck. It was around 6 degrees that morning when I headed out and I was the only person visiting the museum/observation deck. I pulled the door open, walked through to the somewhat icy deck, heard the door shut behind me and thought, "uh......what if I just got locked out up here?". Just a bit of paranoia. I walked around for a bit and took some pictures.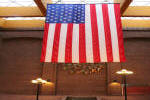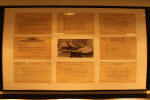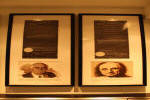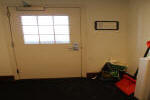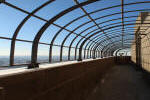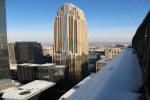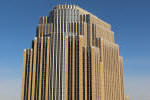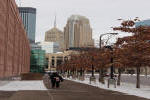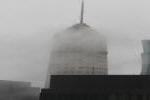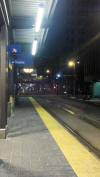 An interesting side note for any fellow Winston-Salem'ers; the Foshay is being looked at as a case study for potentially converting the downtown R.J. Reynolds Tobacco Co. building into a hotel. The R.J. Reynolds building was the prototype that the Empire State Building was based on and built by the same architecture firm. In a future update, I'll post some pictures taken in June from the Empire State Building. It's an incredible building.

My next stop that morning was a record store that I had been told about (thanks Brad!) called the Electric Fetus. The Electric Fetus also has a very colorful history and has been witness to some funny exploits. So from the Foshay, I walk to the Electric Fetus, go inside and find a spacious record store with a great selection of vinyl (new, used, etc.) - and lots of patrons browsing through the records. It reminded me of what it was like being in record stores when I was a teenager. It was a "I'm with my people" moment.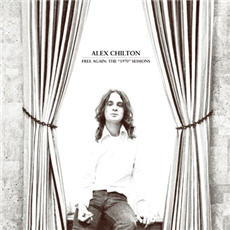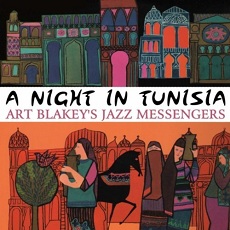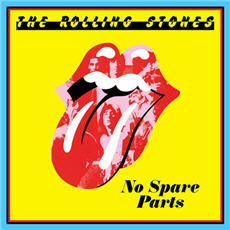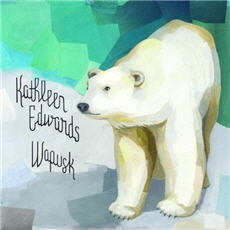 February and March were mostly playing catch up at home after being away for most of January. Record Store Day is the 2nd Saturday in April and I had been looking foward to it and planning which vinyl releases I wanted to score. I had friends over the Friday night before "the" big day and watched movies with them until around midnight. I went to sleep for a bit and got up around 4:15 am.....got a shower and then headed out to my local indie record store, arriving around 4:45 am or so. Nobody is there. Weird. I would've thought there would be a least a few other record nerds already starting to line up. So I sit in the car, read a bit and it's 5:30am and still nobody's there. Another hour passes and I can't understand why no one else is there. I think to myself, "Record Store Day...... April 21st......" and instantly feel like an idiot (I know, not a big leap for me). It's April 14th. I had been looking forward to record store day long enough that at some point, instead of thinking about it in terms of a date, I was thinking - "it's three weeks from now," then "it's two weeks from now," etc. and got the timing wrong.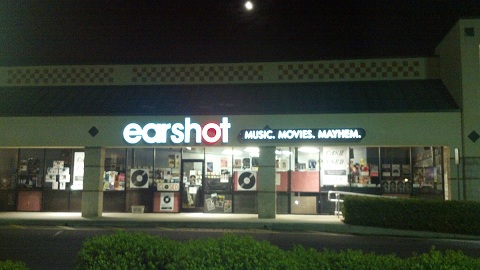 Earshot in the AM hours of April 14th....NOT Record Store Day


So fast forward to the next week. This time, I was out the door and at the store by 4 am. There was one other guy there who had been there since midnight. I forget which record he was there for, but it was one of the more obscure and very, very rare ones and the store had 1 copy. He wasn't taking any chances on someone else getting it. So we talked records then the next guy showed up around 4:45 am. By 5:30 am or so a sizeable line had formed. There were even some women in the mix this time. The record a lot of folks were really after was Phish's "Junta" 3xLP. I believe the store had 6 copies. Around 7:30 am or so, the good guys at Earshot began passing out numbers and I was #2. At 8:00 am, they let the first 10 folks in and I was able to get most of the records I was interested in. A Miles Davis record got away from me, but other than that I did okay.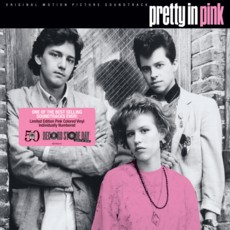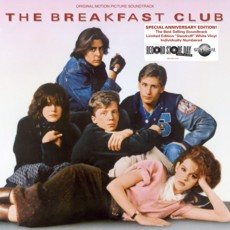 | | |
| --- | --- |
| Various Artists | Various Artists |
| "Pretty In Pink Soundtrack" | "Breakfast Club Soundtrack" |
| Format: 12" Pink Vinyl | Format: 12" White Vinyl |
| Label: A&M | Label: A&M |
| (2,000 pressed) | (2,000 pressed) |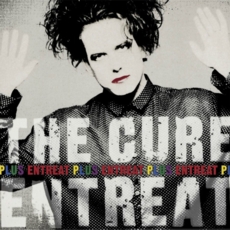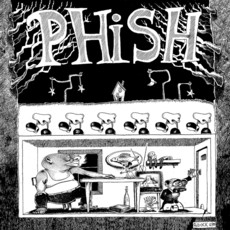 | | |
| --- | --- |
| The Cure | Phish |
| "Entreat" | "Junta" |
| Format: 12" 180g Vinyl (2 X LP) | Format: 12" 180g Vinyl (3 X LP) |
| Label: Elektra | Label: JEMP Records |
| (5,000 pressed) | (5,000 pressed) |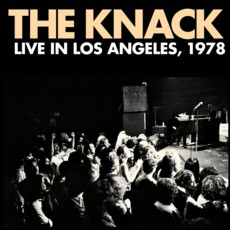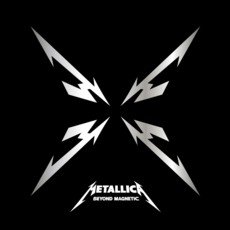 The Knack
Metallica
"Live in Los Angeles 1978"
"Beyond Magnetic"
Format: 10" Red & Yellow Splatter Vinyl LP
Format: 12" Silver (hardly! - looks grey) Vinyl
Label: Omnivore
Label: Warner Brothers
(1,500 pressed)
(5,000 pressed)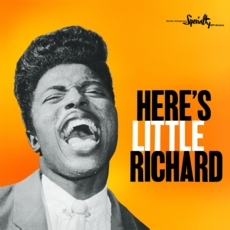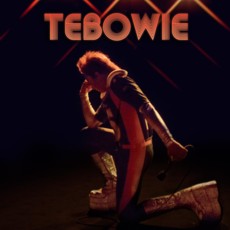 | | |
| --- | --- |
| Little Richard | Jimmy Fallon |
| "Here's Little Richard" | "Tebowie" |
| Format: 12" Red Vinyl LP | Format: 7" Vinyl 45 single |
| Label: Specialty | Label: Warner Brothers |
| (1,500 pressed) | (3,000 pressed) |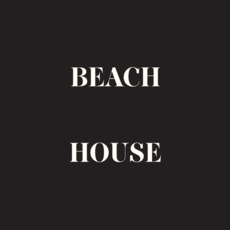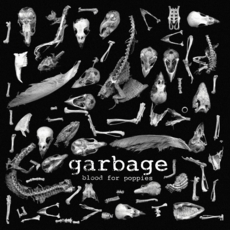 | | |
| --- | --- |
| Beach House | Garbage |
| "Lazuli" | "Blood For Poppies" |
| Format: 7" Vinyl 45 single | Format: 7" White Vinyl 45 single |
| Label: Sub Pop | Label: Stun Volume |
| (2,400 pressed) | (1,900 pressed) |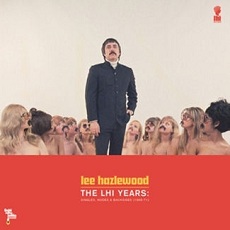 | | |
| --- | --- |
| Lee Hazelwood | |
| "The LHI Years: Singles, Nudes & Backsides (1968 - 1971)" | |
| Format: 12" Vinyl Lp (2 X LP) | |
| Label: Light In The Attic | |
| (2,000 # pressed) | |
The next update(s) will be for May and June. I made it to the coast for five or so days in May and then had a work related trip to New York City in June that I combined with some personal time. In the meantime, check out a new song from Aimee Mann's upcoming album, "Charmer":